Are you looking to accelerate your application development and improve IT operations environments quickly and efficiently?

CVP Hopper is a Managed Platform-as-a-Service (MPaaS) that accelerates software delivery through cost-effective automation and scalable infrastructure.

CVP Hopper in Action:
CVP Hopper reduces the average project startup time from 3+ months to 45 minutes—enabling clients to immediately stand up a fully cloud-enabled, STIG-hardened OpenShift, Jenkins, SonarQube, Splunk integrated development environment and CI/CD/CS infrastructure solution via automated scripts.
Hopper is a software factory in-a-box composed of a set of integrated development, security, and operations tools designed to increase productivity and accelerate the path to agency Authority to Operate (ATO). Hopper removes barriers by accelerating installation and configuration more quickly and efficiently. Hopper's Analytics Bundle enables productivity, quality, and security analytics powered by CVP Nightingale.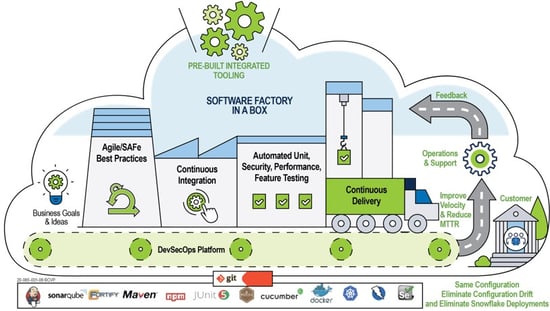 CVP software factory in-a-box process
Hopper is especially valuable to technology leaders as it allows for easy and secure management of the entire DevSecOps infrastructure, dramatically simplifying the environment and associated processes. Download our Hopper PDF
If you would like to find out how CVP Hopper can help your organization, please contact us.